The Hornelen Via Ferrata, which opened on June 18, welcomes climbers to ascend the continent's highest sea cliffs to a sky-high elevation of about 2,821 feet above sea level on the island of Bremangerlandet. (Via ferrata is Italian for "iron path" and is harnessed mountain climbing.)
Three guided climbing experiences are being offered on the mountain in Nordfjord, which has historically been a landmark for passing ships, as well as the site where witches gathered at midsummer and Christmas, according to legends.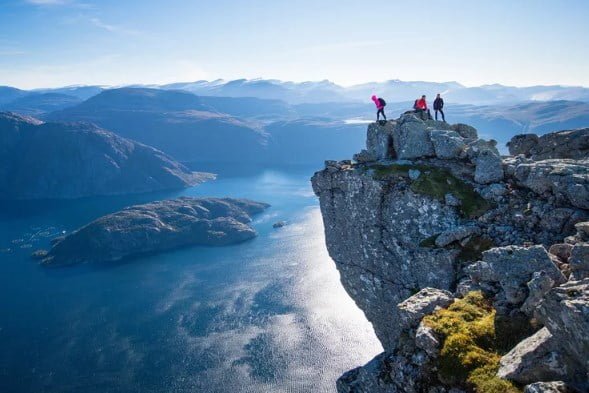 Beginners 12 years old and up can opt for the three-hour easy tour on the Eagle's Side, to get a feel for how the climbing equipment works, including a few challenging patches, before returning down a steep deer path. With groups limited to two to six people, the cost per person is 1,095 NOK ($101). The Wall of Witches is a six-hour experience for those 14 years old and up, ranked a moderate-level climb on a C/D-graded route, with both horizontal and vertical sections, and limited to groups of two to five climbers, for 1,495 NOK ($138) per person.
Finally, the adrenaline-inclined can open for the Olvasrute climb all the way to the summit of Mount Hornelen, following the climbing grips of Viking king Olav Trygvasson, who is credited for establishing the country's first climbing route. The eight- to nine-hour adventure, for 1,695 NOK (about $157), is limited to groups of two to four people with a minimum age of 16. It's classified as "demanding" and with a route grading of F — in part because of a 98-foot overhanging climb.