Although London is the obvious destination for many travelers coming to the U.K., its northern cousin of Manchester offers a similar dose of culture, good food, and excitement.
Best Time to Visit: The weather is moderate most of the year in Manchester, but the summer and early fall are the best times to enjoy the outdoors.
Language: English, although numerous other languages, including Spanish, French, and Arabic, are spoken around the U.K.
Currency: England's official currency is the pound sterling (GBP), which is more commonly called "the pound."
Getting Around: Transport for Greater Manchester (TfGM) is the city's expansive public transportation system, connecting the city center with various suburbs via bus, tram, and local train. There are also taxis and Uber, as well as places to rent a car or bicycle.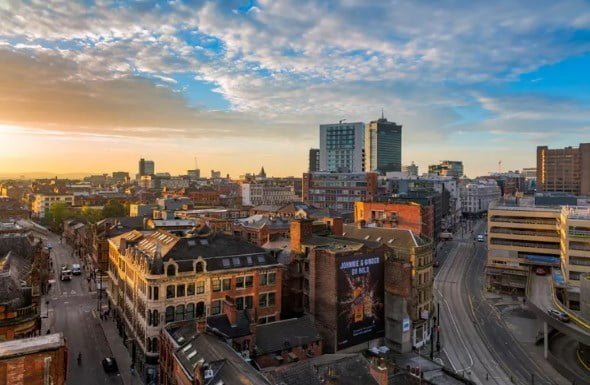 Travel Tip: Give yourself at least three days to see all of Manchester. The city has various neighborhoods and suburbs that are well worth exploring, and you'll want enough time to try all of the different cuisines and restaurants available in the city. It's also a good idea to bring along an extra bag or suitcase as Manchester is known for its shopping, both at large department stores and smaller, local boutiques and vintage shops.
Things to Do
The city is known for its museums, including the National Football Museum and the Imperial War Museum North, and its lively soccer culture. It's also close to many nature destinations, including the Peak District and the Lake District, so many travelers will include Manchester in a longer itinerary. There are also numerous day trips possible from Manchester, many of which can be taken via train or bus.
Tour the National Football Museum before heading to a Manchester United match at Old Trafford stadium.
Dine at The Old Wellington, a historic pub that dates back to 1552. It has a traditional and rustic menu, with classic options like fish and chips and burgers, and lots of beer.
Visit the Pankhurst Centre, which celebrates the Suffragettes' first meeting and is the former home of Emmeline Pankhurst. Entry is free.
For more, explore the top 10 things to do in Manchester.
What to Eat and Drink
The city has an expansive food scene that continues to grow every year, and most global cuisines are represented in its many neighborhoods.
Manchester also has a thriving pub and bar scene, with many historic pubs and sports bars and smaller, independent cocktail bars. Don't miss grabbing a pint at the corner pub, a quintessential experience while in England, but don't forget to explore areas outside the city center like Stockport, which is known for its innovative restaurants and bars.
The local delicacies are a bit off-center (don't try black pudding unless you learn what it is first), but there are a few treats to seek out, including the Manchester Tart. The traditional English baked tart, which features raspberry jam, can be hard to find, but check the dessert menus at the local British restaurants. Otherwise, be sure to try a Sunday roast, a traditional lunch that features roast meat, vegetables, and a Yorkshire pudding.
Where to Stay
Most travelers will opt to book a hotel or an Airbnb in the city center of Manchester, which itself is fairly vast. Look for places to stay in the Northern Quarter, a hip area with plenty of dining and shopping options, as well as the Central Retail District and NOMA. Staying in the center makes it easy to walk to many museums, but look closer to Manchester Piccadilly station if you're on a budget. Some favorite downtown hotels include The Cow Hollow Hotel, The Midland, and the Stock Exchange Hotel.
Those who want to be closer to Old Trafford stadium should look for accommodations near the Quays, which is a bit farther out (although usually cheaper) than what's available downtown. Salford, located west of the city center, is another good option for cheaper hotels or Airbnbs, although it's a drive or bus ride away from many attractions.
Culture and Customs
Restaurants and bars will include a service charge (usually 12.5 percent) on the bill, so there's no need to leave extra cash, although you can drop a few extra pounds if the service was particularly great. When grabbing a drink at a pub, leave a pound or two tip for each round you buy.
Be mindful that British culture is fairly reserved, especially compared with how we behave in public in America. When using public transportation or visiting museums, keep your voice low and be polite. Brits also appreciate a good queue, so never skip the line or push your way to the front, even if you're at a rowdy soccer match.
Money Saving Tips
Manchester has a free bus system that operates around the city center3. There are three routes, 1, 2, and 3, which run throughout the main areas, including the Northern Quarter, NOMA, and Chinatown. Two of the buses run daily, including holidays, while one is not available on Sundays. Check the timetables and routes online to plan a journey.
Several of Manchester's museums are free to enter4, including Manchester Museum, Manchester Art Gallery, and the Manchester Airport Runway Visitor Park.
Take advantage of nearby walks and parks, including Heaton Park and Arley Hall and Gardens. Bring along a picnic during the warmer months to save some money on lunch.
Grab a bite to eat at one of Manchester's hip food halls, which have casual, inexpensive breakfast, lunch, and dinner offerings. Mackie Mayor is one of the city's most popular.
Save money on public transportation by walking as much as possible. Central Manchester is very walkable, especially when visiting attractions like museums and theaters, and it's a good way to keep your budget low. For those who need to take public transportation, consider one of the tram and bus passes that are good for multiple journeys.