Imagine sleeping 30 feet in the air under an all-glass roof that provides unobstructed views of the starry night sky. During the day, the roof turns opaque with the touch of a button, and your attention shifts to the windows that surround you on all sides — delivering 360-degree 24-hour views over Idaho's dense forest.
Come summer 2024, this will be a reality that travelers can experience at MoonPass Lookouts.
MoonPass Lookouts is slated to be a series of custom-built towers designed to replicate the lookout towers used for early forest fire detection following the Great Fire of 1910.
The historic lookout towers are being reimagined to offer overnight guests the same bird's-eye view — plus a glass roof that provides views of the Idaho skies. The project is spearheaded by Kristie Wolfe, a renowned Airbnb creator who turned a giant Idaho potato into an Airbnb, among other unique projects.
Inside, a cozy bed, which is the stargazing HQ, is flanked by a wood-burning stove and a well-stocked kitchen. On the ground below is a private sauna and bathroom.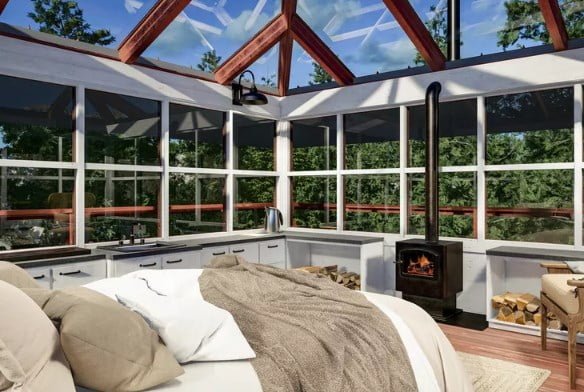 Stargazing, reconnection to nature, and complete privacy are what's on tap at MoonPass Lookouts, which are currently being funded on Indiegogo. Once completed, the pet-friendly boutique property will offer five lookout towers set among 55 acres of private forest land in the Idaho panhandle.
Those willing to leave the comfort of their private perch can bike the nearby Hiawatha Trail, hike Pulaski's Trail, or try their hand at fishing the creek that runs through the property. The small community of Wallace, Idaho is just 30 minutes down the road, and both Spokane, Washington, and Missoula, Montana are two hours away by car.
Early supporters can confirm their visit for the property's first summer season — summer 2024 — in January 2024.