Hoppers are a great choice (though they're widely consumed for dinner too). There are two types, both made from rice flour. The standard bowl-shaped ones are often likened to a pancake with crispy edges. They're eaten with a meal, similar to bread. Simply pull a small piece off using your right hand and dip it in the curry (don't pour the curry in!). These hoppers also come with an egg sitting inside them, which is more common at dinner. The other type, string hoppers, look like a pile of thin noodles. You can pour the curry over these ones. Or, if you're skilled enough, grab a wad with your hand and dip it into the dish.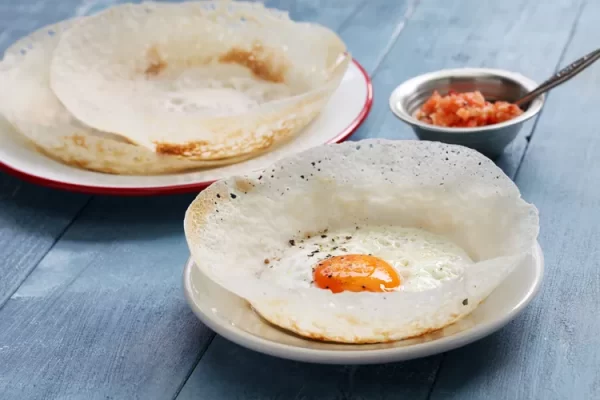 Kaema Sutra restaurant, at the Shangri-La hotel in Colombo, claims to serve the world's largest hoppers with two eggs in the center.
Directions:
Combine the first four ingredients (flour, sugar, coconut milk and water) in a large mixing bowl and set aside. In a separate container, proof the yeast in the warm-water sugar mixture until it triples in volume, about 10 minutes.
Blend the rice and remaining coconut milk in a commercial blender at high speed to form a thick paste. Combine the yeast mixture and contents from the blender with the other ingredients. Using a whisk, stir until no lumps of flour remain. Place in an oven with the pilot light on for about three hours. The mixture should double in size.
Heat hopper pan over medium-high heat. Swirl batter in the pan and crack an egg in the middle. Cover and let cook for 2 or 3 minutes. Loosen hopper with a knife and serve.