Traveling alone as a woman can be one of the most freeing, empowering, and eye-opening experiences you can ever have. Here are some tips I've learned that have helped me feel comfortable (and stay safe) while on the road:
There's much to be said about the power of intuition. If something or someone gives you an uneasy vibe, there's no shame in walking away or saying no. If your gut is telling you that something doesn't feel right, listen to it. This sense naturally becomes more heightened over time as a solo traveler.
Don't be afraid that you will disappoint people by only saying yes when it feels right. Your solo journey is about you and nobody else.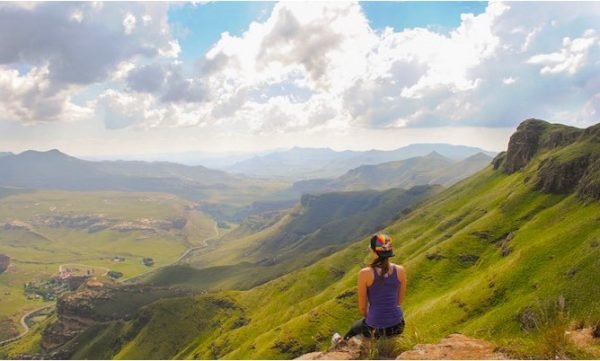 Sometimes in bars and hostels, the group mentality to keep drinking and the pressure to partake in yet another round of shots is present on a daily basis.
If you do go out to a bar, always watch your drink and don't leave it unattended or accept drinks from people you don't know. Also, if you go out with the people from the hostel it's always a good idea to make sure you stay with them and leave with them if you're in a new city. If they want to go to another bar and you're tired, take a taxi back.
In order to keep your most important valuables safe, some travelers suggest using a dummy wallet, which is a fake wallet that contains some canceled credit cards and a little bit of cash. It's enough to make a would-be thief think he's getting something worthwhile while keeping your real valuables well hidden (like under the insole of your shoe).
Another important tool is something that makes noise (ex: A whistle )
Make full use of the platforms available online to understand what to look out for in the area you are traveling to, especially if it's your very first time traveling solo in the area. Facebook, Couchsurfing, Meetup.com, The Nomadic Network — there are tons of online communities you can join to get insider info.
Finally, a reputable walking tour at the beginning of your trip in a new city is not only a great way to have a proper introduction to the area, but also an opportunity to ask questions and get more safety tips from your local guide.
Dress like a local in order to blend in. By standing out, you risk more than just annoying catcalls. In some countries, the culture is simply more conservative, or people dress up a bit more and certain things just aren't appropriate.
In some countries, it's perfectly safe to walk alone at night. In others, it could be dangerous. Going out at night in groups or asking to be accompanied by someone else at your guesthouse or hotel is always smart
Although we always hope nothing will happen, it's important to be prepared for a worst case scenario. Make copies of your important documents, including your passport, identity card, and insurance cards, and keep them in all of the bags you carry.
Keep electronic copies as well, should the worst occur and you lose the paper copy along with the physical document. Take photos of all of your important documents and store them on your phone and laptop, in addition to uploading them to a secure cloud server.
Look up the local emergency number online before you depart or ask the staff at the front desk wherever you're staying.
Make sure someone (a friend, family member, or fellow traveler) knows your itinerary and where you should be at any given time. Try not to go off the grid completely or for long periods of time, especially if you have worried parents back home. If you do change your plans — because it's bound to happen sometime — don't forget to let someone know.
Many countries have inexpensive SIM cards ($20 USD or less) that will help you keep in touch if you have an unlocked phone. Besides, if you're on the move, having Internet access for booking travel arrangements and finding directions is often a godsend.
Leave your passport locked up
Don't take your passport out with you unless you have to. It's better to lock it up in the hostel locker or safe at a reputable hostel. You can always check with the hostel beforehand to make sure they have them (most do). There are a lot of people who lose their passports or get their bags stolen and it's a lot more complicated to have to go sort it out at the consulate and waste days or weeks waiting for a new one.
Instead, bring a photocopy of it or keep a picture of it on your phone just in case.
Use caution when using dating apps