Soup season is upon us and with it comes plenty of experimentation.
If you're undecided about which tasty soup to whip up for your weekly meal prep, this one provides a range of nutrients and a taste that is hard to beat.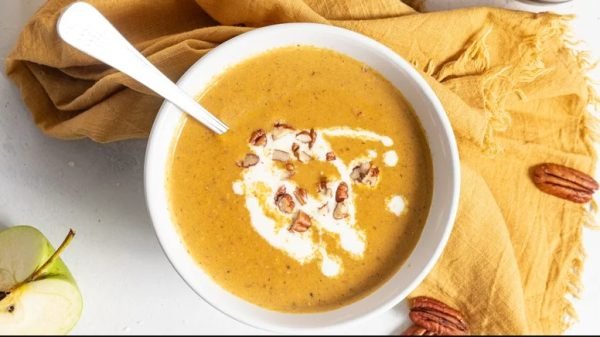 Ingredients
2 tablespoons olive oil
3 cups shredded carrots
1 cup chopped onion
1 ¼ cup diced russet potatoes
2 ½ cups shredded sweet apples
2 cloves garlic, minced
1 teaspoon dry or fresh thyme leaves
½ teaspoon ground cinnamon
¼ teaspoon ground nutmeg
¼ teaspoon ginger powder
½ teaspoon salt
½ teaspoon ground black pepper
¾ cup chopped pecans
5 cups vegetable stock, divided
½ cup heavy cream
Directions
Add the olive oil to a skillet and place over medium heat. Add the shredded carrots and chopped onion and cook until soft.
Add the diced potato and cook for 2 more minutes.
Stir in the shredded apple and cook for 1 minute, then stir in the garlic, thyme, cinnamon, nutmeg, ginger, salt, black pepper, and pecans.
Pour in ½ cup vegetable stock and continue to cook the vegetable mixture for 2 minutes.
Transfer the mixture to a pot, add the rest of the stock, and return to the stove over medium heat. Cook for 5 more minutes.
Transfer the soup to a blender and blend until smooth.
Pour the soup back into the pot over medium heat, and stir in the cream. Cook for 1-2 more minutes.
Serve warm.