Chilled-watermelon ramen: The broth is the main attraction, freshly pressed watermelon juice mixed with a classic Italian vinaigrette that pairs so well with the ramen noodles. The watermelon poke is marinated in a teriyaki sauce.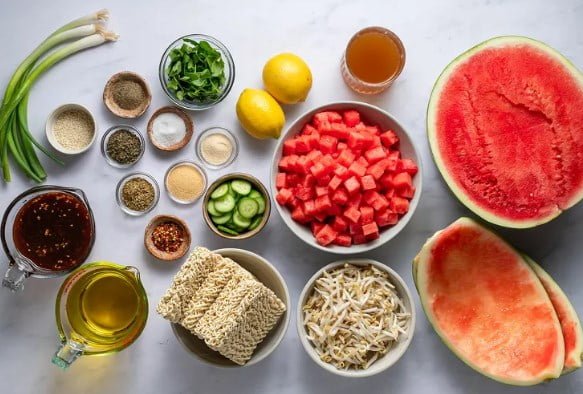 Ingredients
1 medium watermelon, halved lengthwise; cut 4 cups of 1/2-inch cubes from this half, reserve the second half (and any remaining watermelon from the first half) for broth, reserve rinds
2 (10-ounce bottles) teriyaki sauce, preferably Kikkoman
3 cups olive oil
1 cup apple cider vinegar
2 teaspoons onion powder
4 teaspoons garlic powder
4 teaspoons dried oregano
4 teaspoons dried basil
2 teaspoons crushed red pepper flakes
2 teaspoons salt
2 teaspoons freshly ground black pepper
2/3 cup freshly squeezed lemon juice, more as needed
3 medium scallions, julienned
3 cups bean sprouts
4 individual packages ramen noodles, fresh, frozen, or dry
1 Persian cucumber, thinly sliced crosswise, dressed with a squeeze of lemon and salt to taste
1 cup coarsely chopped watercress
1 tablespoon sesame seeds
Steps to Make It
Gather the ingredients.
Combine cubed watermelon and teriyaki sauce in a large bowl. Gently toss to coat. Cover and refrigerate.
Whisk together the olive oil, vinegar, onion and garlic powders, oregano, basil, crushed red pepper, salt, pepper, and 2/3 cup lemon in a large bowl. Reserve 1 cup of dressing for the rind slaw.
Peel the green skin from the rind. Cut the rind into small, manageable pieces. Using a julienne peeler, scrape the sides of the rind to yield 4 cups of slaw. Add the rind to another large bowl.
To the bowl of julienned rinds, add the scallions, bean sprouts, and the reserved 1 cup of dressing. Mix well, cover, and refrigerate.
With a large spoon, scoop the flesh of the remaining half of the watermelon almost to the rind (see FAMILY STYLE note below). Add to a food processor or a blender. Working in batches, purée the watermelon.
Strain through a fine-meshed sieve into a large pourable container.
To the watermelon juice add the remaining 3 cups of dressing. Mix well, cover, and refrigerate.
Bring a large pot of unsalted water to boil. Cook the ramen according to package directions. Drain, run under cold water until cool.
Divide the noodles between 4 bowls. To serve, divide the watermelon poke, watermelon rind slaw, cucumbers, and watercress. Lightly shake or stir the watermelon broth mixture. Divide the broth between the bowls, slowly pouring it low to the bowls so that it will not disturb the toppings. Garnish with the sesame seeds and serve chilled.