Classic Bacony Succotash Recipe
This succotash is certainly more elaborate than the ones prepared in school cafeterias. The main body is comprised of fresh corn, zucchini, canned lima beans (which are also known as butter beans), and canned black beans. Flavoring elements include a yellow onion, bacon, lemon zest, salt, and pepper, while parsley, basil, and cherry tomatoes add a decorative touch. The only other ingredient you'll need is olive oil for cooking.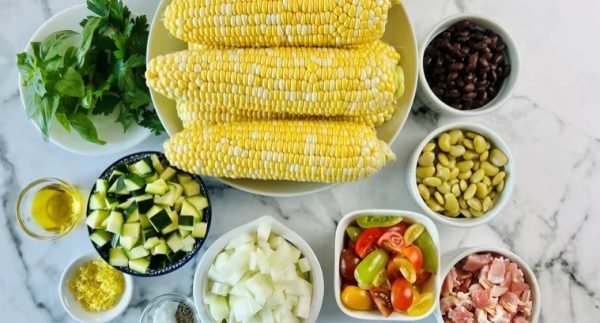 Ingredients
2 tablespoons olive oil
5 slices bacon, diced
1 medium yellow onion, diced
6 ears corn, shucked and kernels removed
1 medium zucchini, diced
8 leaves fresh basil
¾ cup lima beans, drained and rinsed
¾ cup canned black beans, drained and rinsed
1 cup cherry tomatoes, quartered
3 tablespoons minced fresh parsley
Zest of one lemon
1 teaspoon sea salt
½ teaspoon fresh ground black pepper
Directions
Heat the oil in large saucepan over medium-high heat.
Add the bacon and onion and sauté them for 5 minutes, stirring frequently, until onions are translucent.
Add the corn and zucchini to the saucepan, stir, and sauté them for an additional 5 minutes.
Chiffonade the basil by stacking the basil leaves, rolling them lengthwise, and slicing them crosswise into thin ribbons.
Turn the heat down to medium. Add the lima bean beans, black beans, tomatoes, basil, and parsley to the saucepan. Stir well to combine. Cook for 1 minute.
Add the lemon zest, salt, and pepper and stir. Serve warm.