Peanut butter and our super easy homemade tahini create the nutty, savory sauce for this crave-worthy noodle dish.
Ingredients
12 oz. linguine
1/3 c. Homemade Tahini
1/4 c. smooth natural peanut butter
2 1/2 tsp. reduced-sodium soy sauce
2 tsp. chili crisp, plus more for topping
2 tsp. pure maple syrup
1 1/2 tsp. rice vinegar
1 tsp. toasted sesame oil
1/2 tsp. grated ginger
1 clove garlic, grated
2 scallions, thinly sliced on bias
2 Persian cucumbers, thinly sliced on bias on mandoline
Chopped roasted peanuts, for topping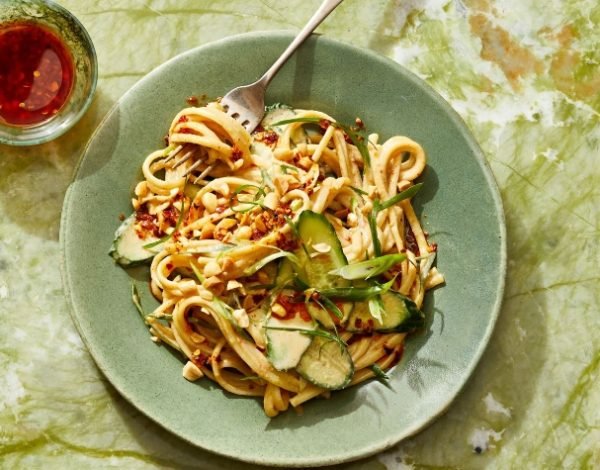 Step 1
Cook pasta per package directions 1 minute past al dente. Reserve 1/2 cup pasta cooking water, drain pasta, and rinse under cold water to cool.
Step 2
Meanwhile, in large bowl, whisk tahini, peanut butter, soy sauce, chili crisp, maple syrup, rice vinegar, sesame oil, ginger, garlic, and 6 tablespoons water until smooth. Add rinsed pasta and toss, adding a splash of reserved pasta water as needed, until coated.
Step 3
Divide among bowls and top with scallions, cucumbers, peanuts, and chili crisp if desired.