Those Enchiladas Suizas Verdes are delicious, cheesy, and the perfect comfort food for any day of the week. The creamy and slightly spicy suiza sauce covers the plump chicken-filled enchiladas and makes this authentic Mexican recipe a family favorite!

INGREDIENTS
▢8 corn tortillas
▢1 ½ cups shredded chicken
▢1 cup Mexican crema (or sour cream)
▢1 ½ cups melty cheese, shredded (Oaxaca, Mozarella, Monterey Jack, etc)
▢1 cup tomatillo sauce (read notes)
▢1 cup chicken stock
▢½ medium white onion (cut in quarters)
▢¼ cup jalapeno or serrano peppers (seeded and diced)
▢1 garlic clove (peeled)
▢cilantro (a small bunch)
▢frying oil
▢1 Tbsp butter
▢salt & pepper
INSTRUCTIONS
Make green sauce
Place tomatillos or tomatillo sauce in a blender.
Add onion, jalapeno, cilantro, garlic, and cream. Add 1 cup of chicken stock and blend until smooth.
Heat the butter in a pan over medium heat. Pour the sauce, season with salt and pepper, stir and let it cook until it thickens (about 2 minutes). Turn off the heat and set aside.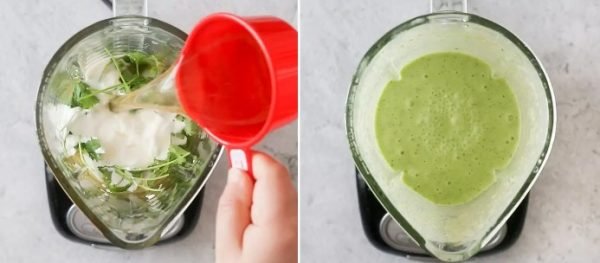 Fry & fill the tortillas
In a frying pan heat some oil over medium heat. Fry tortillas until softened, just about 5 seconds on each side.
Repeat this with one tortilla at a time and place them on a plate lined with paper towels to absorb the excess of oil. Set aside and let them cool slightly.
Next, add 2-3 tablespoons of shredded chicken in the middle of a tortilla, and roll it like a burrito. Repeat the step until all chicken and tortillas are gone.
Assemble
Lightly oil a baking dish. Pour half of the sauce and spread it all over the bottom.
Place all tortillas filled with chicken onto the baking dish, making sure the seam side is down.
Pour over the remaining sauce spreading it very well on top of the enchiladas. Then add the cheese on top.
Bake
Heat the oven to 350°F (175°C) and bake for about 20 minutes or until the cheese is melted and bubbling.
Serve immediately on its own or garnish with jalapeño, cilantro, onion, and more cheese.