When gathering all your gear for a camping trip, it's helpful to categorize the things you need by how you'll be spending your time.
Sleeping
Tent: This is probably the most obvious item you'll need to bring when camping, but it can be easy to forget all the necessary pieces. Besides the tent itself, you'll also want to make sure you have all the necessary stakes, as well as a footprint to protect it from dirt and moisture on the ground, and a rainfly to keep you dry if weather takes a turn. It's also helpful to bring a mallet for wedging your stakes into tougher ground, plus a small tent repair kit should your tent need some maintenance during your trip.
Sleeping Bags: Bring a sleeping bag that's fit for the conditions and temperatures of your destination and one you'll be comfortable in. For couples, sometimes a double-wide sleeping bag is preferable.
Sleeping Pads: For a comfortable night's sleep, bring a sleeping pad—you can choose from a variety of types, such as inflatable, insulated, and more.
Pillows: Depending on how much space you have in your car, you can bring true camping pillows that are more compact but usually less comfortable, or you can bring pillows that you use at home.
Sleepwear: Pack clothing that's comfortable to sleep in as well as comfortable to walk around in for bathroom runs to avoid middle-of-the-night clothing changes in your tent.
Eye Mask and Ear Plugs: Some perks of sleeping outside—the sound of birds chirping and those gorgeous morning rays—are less ideal first thing in the morning. These will help you score just a little more sleep.
Campsite Essentials
Lanterns and Flashlights: You'll need ample light at your site for both safety and enjoyment. Bring a couple lanterns to place on the table or in your tent, as well as flashlights or headlamps for walking around in the dark. (Pro tip: If you'll be setting up a tent in the dark, headlamps are the way to go to keep you hands-free.) You can also buy some string lights to set up at your campsite to add a little extra ambiance. Remember to pack extra batteries or any necessary charging cables for any light sources.
Camping Chairs: Bring foldable chairs to set up around the campfire; bonus if they have cup holders.
Camping Table: Many campsites come with a picnic table. If yours doesn't, bringing your own is useful to have a place for cooking, playing games, and organizing your belongings.
Firewood: If you plan to have a campfire, you'll need several bundles of wood depending on the length of your stay. However, many campgrounds and regions in the country require that you purchase firewood within a certain mileage of the campsite to prevent the spread of invasive species, so check your site's policy first.
Fire Starter: Not required, but using fire starter or charcoal can help you get the flames going more easily, so you can spend more time enjoying the fire than creating it.
Matches and Lighter: One or the other will do, but it's best to bring both.
Toiletries and Personal Items
Some personal toiletry items might seem obvious to have, but it's still helpful to put them on your checklist anyway so that you don't have to run an errand on your trip because you forgot. These include toothbrush and toothpaste (some campers prefer tablets for the latter for ease of packing); shampoo, conditioner, soap, and towel for showering; and any other personal products you'll need on your trip, such as a razor, contact lenses, or feminine products. Here are some other items that should be on your list.
First Aid Kit: This is always a good idea to have on hand for any accidents, and ideally should include some basic medications (ibuprofen, allergy medicine, etc.) as well as various bandages, gloves, antibiotic ointment, and other common needs. (Here's a good option.) Whichever kind you buy, be sure to open it up and get to know its contents before you head out, so that in case you end up needing it, you know exactly what you have and where it is.
Insect Repellant: Bug spray with DEET is best for optimal protection for your body, and you can also buy citronella-based products to disperse around your campsite to keep bugs away.
Sunscreen: Always pack sunscreen and apply frequently, especially if you're headed for higher elevation.
Sunglasses: Any UV-blocking lenses will do, and consider packing a polarized pair if you're spending a lot of time out in water to block glare.
Hand Sanitizer: Some campsite bathrooms are better stocked than others, so just in case, it's wise to keep hand sanitizer handy for when the soap dispensers are empty.
Toilet Paper: Similarly, bringing your own roll of TP can be useful for times when it's missing in stalls or for when you're out exploring for the day with no bathroom access.
Meals and Cookware
Plan out your meals in advance of your trip so that you can gather the necessary ingredients, tools, and accessories. Here's a list, in chronological order of use to help you think through what you'll need, step by step.
Food prep: Think about what you're making, and what kind of prep will go into it. Do you need a sharp knife for chopping up vegetables? If so, you'll also likely need a cutting board. Some people prefer to prepare their ingredients at home and pack in bags or containers, but if you like to do it at your campsite, it might be useful to buy a set that includes all these things. Pack all of your perishables into a cooler with ice or ice packs to keep food and drinks fresh until you need them.
Cooking: Again, refer to your list of planned meals to know what cookware to bring. In general, though, it's helpful to have at least one pot and one pan. If you'll be cooking directly over fire, a cast iron pan is your best bet, and you'll want to bring a campfire grill grate (or check to see if your campsite already has one). If you're using a camping stove (in which case, you might also need to pack propane), any pots and pans that fit will do. Don't forget utensils and tools you'll need for cooking, as well. Do you need a spatula for flipping eggs or burgers? A spoon for stirring sauces or serving soup? Tongs for grilling hot dogs over the fire? Skewers for roasting marshmallows? While you can bring a lot of this from your home kitchen, it's helpful to buy a full cookware set that includes most of these items; you won't have to rummage through your kitchen, and it's compact and portable for quick packing. Don't forget to bring oven mitts or pot holders to handle hot pans, especially if you're cooking over a fire. And stash a bottle of olive oil or butter as well as salt and pepper in your cookware bag for easy seasoning.
Drinking: What will you be drinking? If you like to have coffee or tea in the mornings, bring a kettle or other device for heating water, plus an insulated thermos or mug for sipping. For beer or wine, be sure to bring a bottle opener and corkscrew, plus a koozie or other vessel for indulging. And always pack a few reusable water bottles on any trip to stay hydrated.
Eating: Besides the actual food, make sure you have all the items you'll need for when you sit down to actually eat your hard-earned meal, including plates or bowls, plus forks, knives, and spoons.
Cleaning: Once you've enjoyed your meal, you'll need to clean up properly. Pack a sponge and dish soap for scrubbing all your cookware, cloth or paper towels for drying, plus trash bags for collecting all of your scraps and waste. (Depending on where you're camping, remember to be bear-aware when cleaning up food at a campsite, making sure food scraps and trash is out of reach and sight—usually it's best to keep all these things inside your car and never a tent or left out in the open.) You might want to keep two separate bags for trash and recycling. And pack a few reusable bags or containers to store leftovers.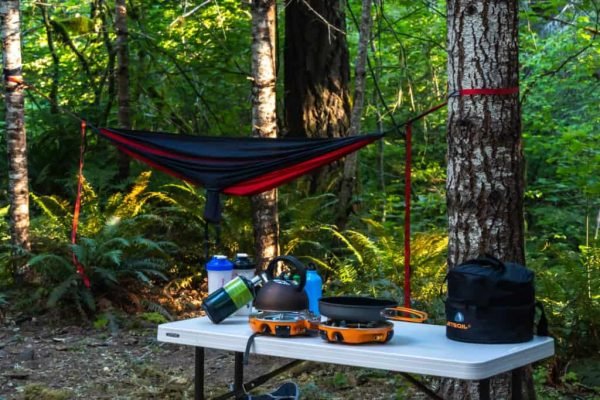 Clothing and Accessories
As with any other trip, the clothes you pack should be suitable for how you plan to spend your time and also for what the forecast will be wherever you're heading. For instance, if you're planning a getaway to a lake or beach destination, be sure to pack a swimsuit, goggles, hat, flip-flops, and beach towel. If you're more of a woodland explorer, pack your hiking gear, such as hiking boots, appropriate hiking attire, and a day pack to explore the trails near your campsite. Check the weather before you go to determine the layers you might need, and remember that if you're heading up to higher elevation for a mountain getaway, temperatures tend to be cooler, especially in the evenings, so it might be wise to pack extra layers and blankets, warm closed-toe shoes, and potentially a hat and gloves. It's also a good idea to always have an umbrella or rain jacket just in case.
Electronics
The electronics you need are also dependent on what you'll be doing, but here are some you might want to consider bringing.
Portable Chargers: Bring a battery pack and any necessary cables to charge your phone or any other rechargeable devices.
Extra Batteries: Similarly, if anything you're bringing requires batteries—lanterns or flashlights—have some extra batteries on hand.
Bluetooth Speaker: Pack a portable speaker to play some music while you're relaxing at your campsite. Just remember to keep the volume at a respectable level for your neighbors and also obey any quiet hours of the campground.