Greece is famous for its feta cheese, succulent olives, fresh herbs, and sun-ripened tomatoes, all of which appear here in this dish. The tomatoes bake for a few minutes along with garlic until juicy and flavorful, but still fresh tasting. It's a different take on spaghetti marinara that the whole family will love.
Ingredients
Kosher salt, to taste
1 pound small plum tomatoes, preferably San Marzano
6 tablespoons extra-virgin olive oil, divided
1 clove garlic, thinly sliced
1 tablespoon finely chopped fresh parsley
1 tablespoon finely chopped mint leaves
1 teaspoon dried oregano
2 tablespoons capers, rinsed
1 tablespoon red wine vinegar
3/4 pound spaghetti
1/4 cup pitted, coarsely chopped Kalamata olives
1/4 cup pitted and coarsely chopped green olives
1/4 pound feta cheese
Freshly ground black pepper, to taste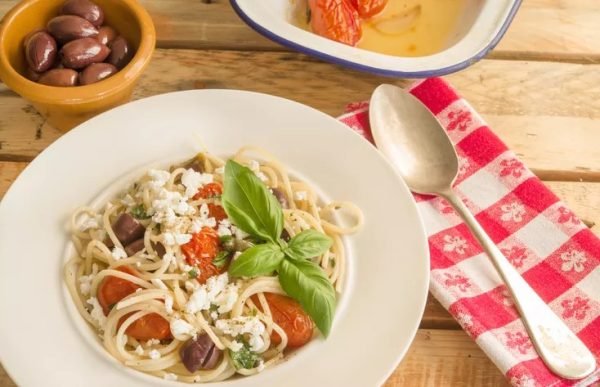 Steps to Make It
Gather the ingredients. Preheat the oven to 325 F and put a large pot of well-salted water on to boil.
Place the whole tomatoes (including the vine if your tomatoes have one) into a ceramic or metal oven dish. Drizzle with 2 tablespoons of olive oil and a good pinch of salt. Roll the tomatoes around a little to cover everything with the oil, then add the garlic slices distributing them evenly into the dish. Place the dish in the center of the preheated oven and cook for 15 minutes. The tomatoes will soften and the skin may split.
While the tomatoes are cooking, prepare the sauce. Put the chopped parsley, mint, and oregano in a small bowl. Add the rinsed capers, red wine vinegar, and the remaining 4 tablespoons olive oil. Whisk together to create a thick, creamy looking dressing and put it to one side; do not place in the refrigerator.
Boil your spaghetti as per the instructions until al dente. Once cooked, drain the pasta and tip back into the warm pan. Stir in the dressing while the spaghetti is hot; it will become very fragrant. Add in the chopped black and green olives and the tomatoes and garlic, including any juice from the cooking dish.
To serve either, either transfer the pasta into a large warmed serving bowl for everyone to help themselves or into four individual warmed bowls. Before serving, cover the pasta with a generous helping of feta cheese and freshly ground black pepper.