Once a Norman stronghold, the picturesque Leeds Castle has served many purposes, including as a home for Henry VIII and his first wife Catherine of Aragon, and as private property for six of England's medieval queens. Today, it's one of the most visited historic buildings in Britain.
It's a popular attraction for visitors of all ages, with many school groups traveling to Leeds Castle during the school year. There's a lot of activities on the grounds, from adventure golf to playgrounds to falconry. Despite its long history, the castle is relatively modern, with good restaurant options and several shops.
There's a lot to experience at Leeds Castle, from historical exhibitions to falconry to activities for families. The journey begins in The Gatehouse Exhibition, which details 900 years of the castle's history, including its 300 years of royal ownership. See original artifacts, illustrations, and films to help uncover its past. There are numerous castle rooms to explore, which include those held by Lady Baillie, the last private owner of the castle, who acquired the building in 1926 when it was sold to pay death duties.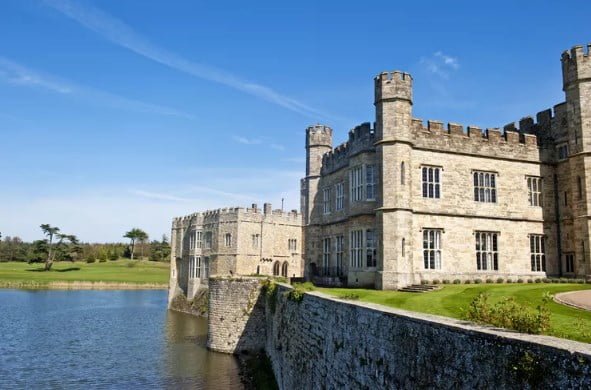 Outside, don't miss Leeds Castle Adventure Golf, the Maze, and the Knights' Stronghold Playground, which are perfect for visitors of all ages. There are also 500 acres of gardens and parkland surrounding the castle, including the Culpeper Garden and the Princess Alexandra Gardens. Be sure to pay a visit to the Birds of Prey Centre to learn about falconry and see falconry displays. Visitors can also pay an additional fee for a close-up experience with an owl or bird of prey.
As the grounds are massive, there several options for getting around. Look for the Black Swan Ferry, the castle train, and circular walking routes, which will take you on a course around the castle and its vast gardens.
Adult visitors will enjoy the Leeds Castle Golf Club, a historic nine-hole course built in 1931 by Sir Guy Campbell. The course offers pay-and-play options for non-members, which you can book that the Leeds Castle website. There are also junior golf offerings for younger players.
How to Get There
There are numerous ways to get to Leeds Castle, which is located just outside Maidstone, in Kent. Parking at the castle is free, which means it's easy to drive there from either the local area or from London. It's about a one-hour drive from London via the M20, and 30 minutes from the Channel Tunnel and Channel Ports when traveling from France. There is clear signage along the route once you get close to Leeds Castle. If using a sat-nav system or Google Maps, input postcode ME17 1PD for the best directions.
For visitors who prefer to take public transportation, the best option is to arrive via train. Southeastern runs frequent trains to nearby Bearsted station, about an hour from London's Victoria station. From there, a bus shuttle service run by Spot Travel is available from the station from April to September, and a private service is available from October to March. If you're staying in Maidstone, take two buses: Nuventure no. 13 bus from Maidstone to Hollingbourne, and Arriva no. 13 bus from Maidstone to Hollingbourne. There are also bus sightseeing tours from London that stop at Leeds Castle. Look for tours with Golden Tours, Evan Evans, or Premium Tours.
Visitors to Leeds Castles can stay on the actual castle grounds, at holiday cottages, bed and breakfasts, or in tents at Knight's Glamping. Book one of the unique cottages on the Leeds Castle Estate, or opt for a room at Stable Courtyard Bed & Breakfast or Maiden's Tower Bed & Breakfast. For an added dose of luxury, Battel Hall is a countryside escape perfect for a larger group or family.
Off the grounds, the nearby Tudor Park Marriott Hotel & Country Club is a good option for travelers who like an assortment of amenities, while the Hilton Maidstone has a spa. Chilston Park Hotel, in Lenham, is a four-star hotel with historic touches and a memorable afternoon tea.