This Winter Warmer Mulled Sangria recipe is a pure delight and perfect for any cold weather party you may be planning.
First of all, it should be noted that you will need to plan ahead when making this mulled sangria. The first step requires 3-7 days for the booze and fruit to marry and it is worth the wait!
What I found most interesting is the use of fresh fruit and a spiced liqueur to add a seasonal flair to the average Sangria recipe.
Enjoy this punch at your holiday parties or any occasion when friends are gathering and you need a toasty warm-up.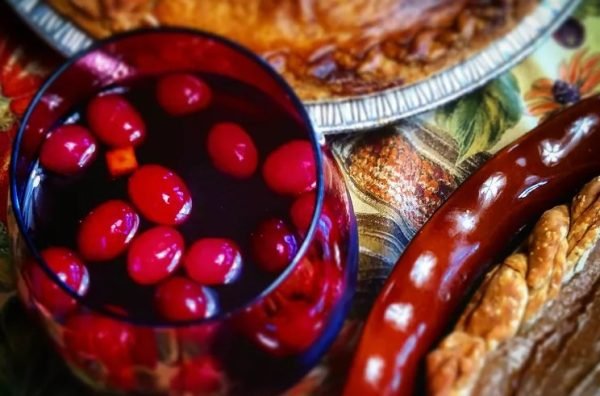 Ingredients
1 (750-milliliter) bottle red wine
2 cups​ pomegranate liqueur
1 cup​​ Jägermeister Spice Liqueur
12 ounces fresh cranberries
2 cups​ ​​pomegranate arils, from about 2 pomegranates
1 1/2 cups cranberry-pomegranate juice
1 cup club soda
1 sachet mulling spices
Steps to Make It
Gather the ingredients.
Before the party, mix the wine and liqueurs in a pitcher. Add the cranberries and pomegranate arils, cover, and refrigerate and infuse for 3 to 7 days.
Boil cranberry-pomegranate juice and club soda in a small saucepan.
Add a sachet of mulling spices and allow to sit hot for 15 to 30 minutes. If that isn't enough spiciness for you, you can also add a sachet to the finished pitcher for extra flavor.
Allow the mulled juice mix to cool, then pour into the original pitcher and stir to combine.
Serve warmed or at room temperature, being sure to include some of the boozy fruit.