Jerusalem is one of the oldest cities in the world, founded over 5,000 years ago. And while it is loaded with history, it's not a stuffy, dusty capital fit only for antiquity buffs. It's actually a lively, modern place with an incredible food scene and wild nightlife.
Price legend (per night):
$ – Under 90 ILS
$$ – 90-150 ILS
$$$ – Over 150 ILS
1. Abraham Jerusalem
This is one of the most popular hostels not just in Israel but the world.It was an energetic place with a friendly atmosphere and a bar. It felt really social. There's also a tour desk on-site, so it's easy to book all kinds of day trips and tours around the city, country, and region.
it's close to the Machane Yehuda Market (great to shop at) and it's not a long walk to the Old City or Central Bus Station.
Abraham Jerusalem at a glance:
$$$
Tour desk on-site
Lively, energetic atmosphere
Super friendly staff
Beds from 161 ILS, private rooms from 793 ILS.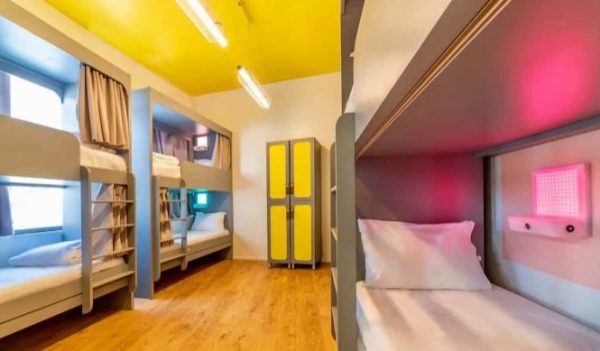 2. Stay Inn
This stylish hostel is laid-back and has comfy dorm rooms. The beds have thick mattresses and curtains (something I really appreciate) so you can get a decent sleep and there are individual lights and outlets too. The rooms also have AC (a big plus since it can get quite warm here). The hostel is very central, located right near the Midrachov (a popular pedestrian mall) and not far from Independence Park.
Stay Inn at a glance:
$$
Delicious breakfast
Comfy dorm beds
Convenient location
Beds from 93 ILS, private rooms from 463 ILS.
3. The Post Hostel
This hostel has a stylish, contemporary feel. There's a rooftop terrace where you can hang out (which I really loved), as well as a large kitchen for cooking your own meals. There's also a bar for being social but also a movie room for whenever you want to take it easy after a late night out. The dorms are airy and bright and the bunks are comfy with lights, outlets, and lockers (no curtains).
The atmosphere isn't super social (it feels a bit more like a hotel), but there is lots of common space for lounging. It's not far from the Old City either.
The Post Hostel at a glance:
$$$
Quiet atmosphere
Great location near all the main sights
Clean, spacious dorms
Beds from 188 ILS, private rooms from 680 ILS.
4. Palm Hostel
This is one of the cheapest hostels in town. It's got a no-frills place and, while the dorms are small and the beds are basic (thin mattresses and no curtains), it's just a short walk to all the major Old City sights (you can reach everything in around 15 minutes). You really can't beat the location, just steps from the busy Damascus Gate.
There are a few common areas where you can hang out (including an outdoor patio), and there's also a small kitchen for cooking your own meals.
Palm Hostel at a glance:
$
Amazing location near the major sights
Very affordable
Lots of common areas for hanging out and meeting people
Beds from 80 ILS, private rooms from 270 ILS.
5. Cinema Hostel
This cinema-themed hostel is a lively hostel located in an old movie theater. since it's right near the Midrachov and all the nightlife, and just a 15-minute walk to the Old City. The dorms are simple and clean but the beds are basic metal bunks with thin mattresses and no curtains. There are lights and plugs for each bed and there is also a capsule dorm if you want more privacy. There's a female-only dorm too.
Just note that there is an age cap here: you can't be over 45 years old.
Cinema Hostel at a glance:
$$
Female-only dorm
Social atmosphere makes it easy to meet people
Younger travelers only (18-45)
Beds from 95 ILS, private rooms from 150 ILS.