Galletas Marías
Although galletas Marías are popular cookies in Central America, they can also be found all over the world. They are dry, round, and sweet—similar to graham crackers in the United States. They originated in England during the 1800s and were called Maria biscuits in honor of Queen Victoria's second son, Alfred, and his royal bride Maria Alexandrovna Romanova.
Pastel de Tres Leches
Pastel de tres leches (tres leches cake, or "cake of three milks") is a Central American dessert that is eaten all over the isthmus. It's a citrus sponge cake soaked in three kinds of milk: evaporated milk, cream, and sweetened condensed milk. It can be topped with meringue or whipped cream. Although its origins are unclear, pastel de tres leches is said to have gained popularity when canned milk became available in Central America during the 1940s.
Banana Cake
Banana cake is primarily found on the coasts of countries such as Belize, Honduras, and Costa Rica. It's lighter and sweeter than banana bread and occasionally served with frosting. Banana cake is also made with baking powder while banana bread is made with yeast.
Flan
The dessert dates back to Roman times when it was served with honey instead of caramel. Spaniards brought the recipe to Mexico during the Spanish conquest and from here it trickled down through Central America. Flan can come in different flavors, such as vanilla or orange, and it is often topped with fresh fruit.
Arroz con Leche
Arroz con leche (rice with milk) is a Latin American sweet rice pudding, made by simmering rice in milk and spices. Some add extra ingredients like coconut, cinnamon, or cloves for a special zest. In Costa Rica, arroz con leche is thought to have healing qualities in line with la pura vida.
Empanadas de Plátanos
Empanadas de plátanos are dessert empanadas found in Nicaragua, El Salvador, and Costa Rica. The pastries can be filled with all kinds of goodies, including chocolate, caramel apple, or other sweet fruit. But the most common dessert recipe—especially in El Salvador— includes deep-fried plantains and a custard-like filling.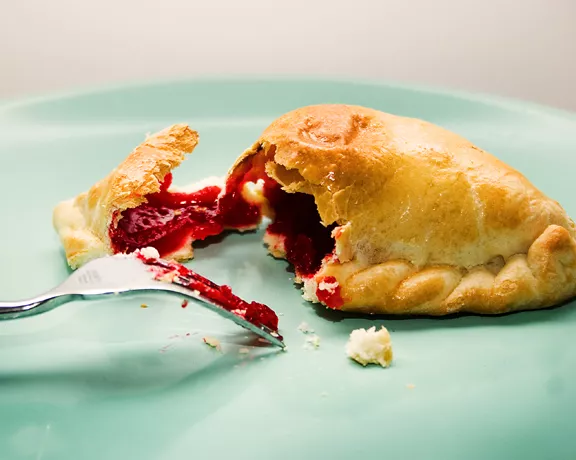 Coconut Pie
Coconuts are plentiful in Central America, especially along the coasts. So it only makes sense that coconut desserts would be popular. Expect to see lots of coconut cake, coconut fudge, tabletas (chewy coconut candy), and coconut pie.
Granizadas
On a hot day, nothing beats a granizada (or raspado in Panama). Like snow cones in the United States, granizadas feature shaved ice drizzled (or soaked) in sweet, colorful syrups. They're usually sold from street carts in Central America; just make sure to ask if the granizada is made with purified ice (hielo puro).
Fruit Smoothies
Refrescos or licuados—fruit smoothies are delicious by any name. In Panama, these sweet fruity drinks are called batidos and are often mixed with papaya, strawberry, and pineapple. In Guatemala, on the other hand, the fruit shakes are made with local carambola (star fruit) and guanabana (soursop).