Medford, Oregon is located in the heart of Rogue Valley where the climate resembles the desired Mediterranean climate. Known for its tasty pears and wine, Medford is a popular city in the Southern Oregon region.
If you're planning a visit to this classic Pacific Northwest city, let's take a look at things to do there!
1. All Aboard Trolley Wine Tours
If you're 21 years of age or older, we recommend this incredible wine tour. Unlike more traditional wine tours, the Allaboard Trolley Wine Tours in Medford offers a unique experience that you'll not encounter elsewhere.
These tours are set in vintage 1920's San Francisco streetcars that have been preserved to offer a step back in time. The benches are padded and seat up to 25 tourists. The trolleys take you on a tour of the Southern Oregon wine country while catering to you with wine, cheese, meat, bread and more. You're allowed to choose your own music and can create your own wine tour! Many people choose to have weddings, parties and private wine tours.
The average wine tour lasts five hours and typically starts around noon.
2. Medford Railroad Park
If you're fascinated with trains and railroads, look no further than the Medford Railroad Park. It's only open to the public on the second and fourth Sunday of each month, so plan accordingly! However, it's a wonderful to take the kids. They fill this seven acre park with trains and locomotives of every kind! They offer miniature train rides and have multiple model train sets lined up everywhere. And yes, they have real trains, cars and cabooses set up for all to see.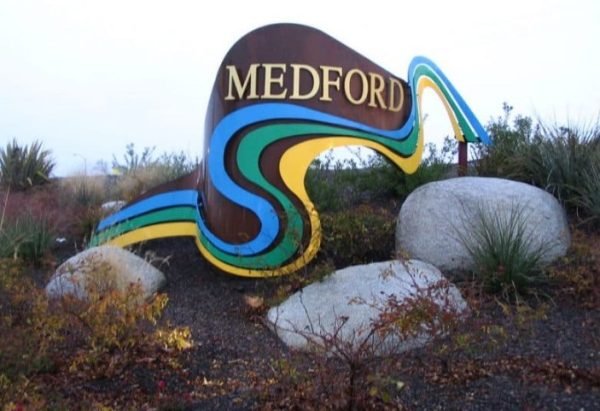 3. Alba Park
Alba Park is situated in the heart of Medford. Constructed in 1888, it's the oldest park in the city. It may seem like a simple place to visit, but the memories to be created here are endless. The park is donned with a quaint gazebo, water fountain and statue. Interestingly, it has a Japanese gun from World War II on display. It's a great place to have a romantic stroll or a noontime picnic.
4. Prescott Park and Roxy Ann Peak
On the eastern side of the city stands the tall Roxy Ann Peak. This peak is the city's most popular landmark. Prescott Park is situated around this famous peak with over 1,700 acres of nature. Prescott Park is the largest park in Medford and attracts thousands of visitors every year. The mountain has an elevation of 3,576 feet and overlooks the city in its majestic beauty. The park has provided hiking trails around the mountain that allow you to savor the views from Roxy Ann Peak. Don't forget to pack your walking shoes! The hike up the mountain is worth it. Be prepared to see all of Medford as well as the natural beauty of Rogue Valley.
5. Crater Lake
Medford has a wonderful geographical location because it's not far from some of Southern Oregon's greatest natural wonders and sights. If you're visiting Medford, don't leave the area without seeing the famous Crater Lake! Located 57 miles northeast from Medford, it's a short drive to the deepest lake in the USA.
Crater Lake National Park provides a road that encircles the large, volcanic lake in three hours. (Keep in mind that portions of the road are closed during the winter months due to snow.) The lake is not only the deepest water in the country, at 2,000 feet in depth, but it's also the purest natural water in the country.
Viewing the lake and its raw beauty is the most popular activity at Crater Lake, but there's more to do! You can take a scenic hike on the Rim Trail and climb the edges of the caldera. During the summer time, you can visit Wizard Island by ferry! The Pacific Crest Trail is another popular trail that traces the bottom rim of the lake. If you're in search of a great camping location, check out the Mazama Campground. It's a wonderful facility with over 200 camping sites available to eager tourists.
6. Upper and Lower Table Rock
Just a short, 14-mile drive north from Medford on Table Rock Road is one of the landmark features of Rogue Valley: Upper and Lower Table Rock.
These two rocks are ancient mesas that loom over the valley at 800 feet in elevation. The name, "Table Rock" stems from the rocks' sturdy, table appearance with its flat, smooth tops. The rocks were birthed millions of years ago from a volcanic eruption and have a history of cultural ideologies and beliefs.
It's tough climb up the rocks but the view is worth it. Atop the mesas, it's flat with many trails that lead you to impeccable views of the Rogue Valley and distant mountains. We don't recommend climbing the rocks during the heat of summer. The temperatures at the top of the rocks are sweltering and dangerous. However, the temperatures are safe during the Fall and Spring.
7. Claire Hanley Arboretum
If you're passionate about plant life, visit the Claire Hanley Arboretum in Medford! It would be a lovely addition to your itinerary for a day around the city. Created in 1962, the arboretum is located on the grounds of Oregon State University. It has a variety or Oregon plants such as the Sorrel tree, the dove tree and the dogwood tree. It would be a nice opportunity to learn more about the local history of Medford!
8. Dining in Medford
Downtown Medford provides a small-town feel amidst the city. We recommend starting on Main Street in the downtown area and see where that leads you. If you get hungry for lunch, try out the local cafe, Jasper's. They are an award-winning restaurant with exotic burgers, milkshakes, beer and more! Of course, they have traditional burgers, but why not try something different? They offer exotic burgers such as: bison, elk, camel, boar and kangaroo.
If you're looking for a romantic restaurant, check out the Porters Dining at the Depot. This former train station transformed into a place of dining elegance opens daily at 4p.m. Their menu offers traditional Oregon food staples such as 30-day dry aged steaks, fish tacos and Columbia River steelhead. The restaurant also has an award-winning bar with incredible beer.
9. Shopping in Medford
If you love vintage art, furniture and antiques, you MUST visit The Coop de Ville of Medford. They sell everything from vintage artwork to refurbished, antique furniture.
The Village at Medford Center is another MUST SEE location in downtown Medford. This pleasant, outdoor mall offers a little bit of everything. From clothing stores, to sporting goods stores to home goods stores. You can even find small restaurants and snack shops at The Village at Medford Center. Place this location at the top of your list as well.
Finally, if you're looking for a classic antique shop in the heart of Medford, check out the Collectors Market. It's set up in booth formation like most antique shops.
10. Craterian Theater in Downtown Medford
What a perfect way to end a night in Medford with a visit to the Craterian Theater! Having been open since 1924, the theater provides performances that include: symphony concerts, music bands, musicals, plays, ballet and comedic entertainment. It was restored to its original, vintage design in 1997 and seats a large crowd of 750 members.
Perhaps after an elegant dinner at the Porters Dining at the Depot, you and your loved one can visit the symphony at the Craterian Theater.
11. Rogue River
If you're searching for a day of family fun, take a drive out to Rogue River. Only a few miles west of Medford, you and your family can enjoy a day of white water rafting, salmon fishing, picnicking and gliding on jet boat rides. As always, there are plenty of nature trails to partake in and memories to be made.
12. Pear Blossom Festival
Every year during the springtime, Medford hosts the Pear Blossom Festival. Obviously, it's a testament to it's spectacular pears; however, the festival provides many fun and rewarding activities.
The Pear Blossom Parade brings the entire city together in April.
As the festival has grown in popularity through the years, it provides the Miss Pear Blossom Pageant AND scholarships to high school and college students. You can partake in the Street Fair where there's plenty of food, crafts and souvenirs. Many people enjoy the Pear Blossom Run, the biking event and the golfing event.