Ube Halaya
The starchy purple root we call "ube" (pronounced oo-bay) has lately become a trendy foodstuff in the West, but Filipinos have long valued it for its bright purple color and its down-to-earth deliciousness that translates well into cakes, pies, candies, and ice cream.
Filipinos swear by the dessert in its original form—a mashed and sweetened mass called ube halaya. Ube root is peeled, mashed, and mixed with condensed milk or sweetened coconut milk, then thickened over heat. You can eat this on its own, or use it as an ingredient in other desserts
A congregation of nuns in the mountain city of Baguio make what is arguably the best ube halaya in the country; long lines form in the morning to grab a limited daily supply.
Kakanin
"Kakanin" covers a surprisingly wide range of sweetened rice-based desserts, usually found in its different forms in morning markets all over the Philippines.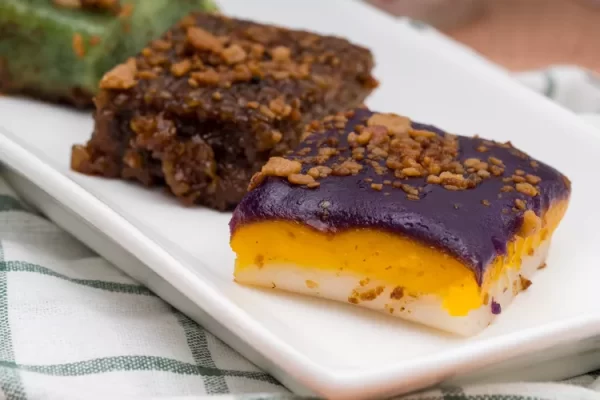 There's suman, or whole glutinous rice cooked in coconut milk, wrapped in palm leaves, and steamed until done; puto, a steamed rice-flour cake that can be paired with savory foods like batchoy and the pigs' blood stew dinuguan; and kutsinta, a rice cake treated with lye to create a bouncy pudding with a brown-yellow color.
Some types of kakanin are made for the Christmas season—like puto bumbong, a purplish rice cake sold outside Filipino churches during the Advent early morning mass known as misa de gallo.