Anyone who adheres to a gluten-free diet may know the frustration of thinking an unsuspecting food contains no gluten, only to find that it's actually laden with it. Case in point: Meatballs, which seemingly would be gluten-free at first glance, but in actuality almost always contain breadcrumbs as a binding agent. Indeed, most meatball recipes aren't gluten-free by nature, but luckily, there are substitutions that allow for meatballs to retain their flavor and shape, all the while also maintaining a gluten-free ingredient breakdown.
Ingredients
For the meatballs
½ cup quick-cooking, gluten-free oats
2 tablespoons whole milk plain Greek yogurt
2 tablespoons olive oil
2 tablespoons minced red onion
1 large clove garlic, minced
1 large egg
¼ cup crumbled feta cheese
2 tablespoons chopped fresh Italian parsley
2 tablespoons chopped fresh mint leaves
2 tablespoons chopped fresh dill
zest of 1 large lemon (juice reserved for sauce)
1 teaspoon dried oregano
1 teaspoon kosher salt
½ teaspoon ground allspice
½ teaspoon chili flakes
¼ teaspoon freshly ground black pepper
1 pound ground turkey thigh
For the herbed yogurt sauce
1 cup whole milk plain Greek yogurt
juice of 1 large lemon
2 tablespoons olive oil
1 tablespoon capers
1 tablespoon chopped fresh Italian parsley
1 tablespoon chopped fresh mint leaves
1 tablespoon chopped fresh dill
½ teaspoon smoked paprika
kosher salt, to taste
freshly ground black pepper, to taste
Optional Ingredients
sliced English cucumber, for serving
halved cherry tomatoes, for serving
pitted Kalamata olives, for serving
sliced pepperoncini, for serving
pita bread, for serving
Directions
To prepare the meatballs, combine the oats and Greek yogurt in a large bowl and let sit for 5 minutes.
Meanwhile, heat the olive oil in a small sauté pan. Add the red onion and garlic and cook just until softened, about 5 minutes. Cool slightly.
In a mixing bowl, stir the egg, feta, herbs, lemon zest, and spices into the oat mixture. Add the cooked onion and garlic. Mix in the ground turkey by hand, just until everything is combined.
Cover the bowl and refrigerate for 30 minutes, allowing the meatball mixture to firm up.
Preheat the oven to 400 F and line a baking sheet with parchment paper.
Use a small scoop to form 1 ½-tablespoon sized balls. Coat your hands with a bit of olive oil and roll the balls smooth, taking care not to pack them tightly (this will make them tough). Place the meatballs on the prepared baking sheet.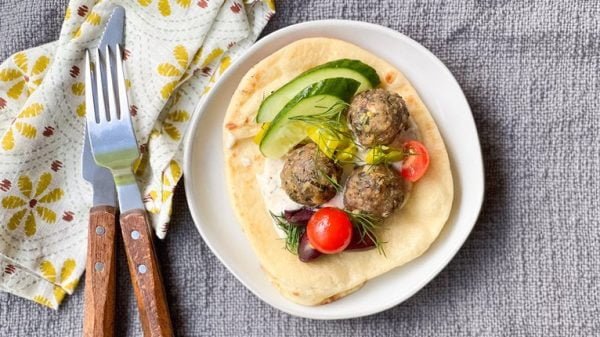 Bake for 15 minutes, then turn the oven to low broil. Broil for an additional minute or 2 until golden brown and sizzling on top.
While the meatballs are baking, prepare the herbed yogurt sauce by mixing all the ingredients in a medium bowl until smooth.
To serve, divide between four shallow bowls alongside some cucumber, tomato, olives, and/or pepperoncini. Add a large spoonful of the herbed yogurt sauce. Garnish with additional chopped herbs and pita, if desired.