Chicago's skyline reflects diverse architectural design, resourcefulness, and innovation. Chicago quickly became the birthplace of the skyscraper with the completion of the Home Insurance Building in 1885. Today, the three tallest buildings in Chicago are the Willis Tower (known as the Sears Tower if you're a Chicagoan), Trump International Hotel and Tower, and the Aon Center.
In addition to skyscrapers, Chicago is world renowned for its bungalows, graystones, and cathedrals. The city's museums are quite stunning, and everyone can agree that Wrigley Field, home to the Chicago Cubs and built in 1914, should be included on the list of notable architecture.
One of the best, and most fun, ways to learn about some of the Windy City's famous architecture is on a boat tour with Chicago Architecture Center (or one of Chicago's other amazing on-water tours) where you can get a duck's view of prominent buildings along the Chicago River. Of course, you can also take a walking tour—Chicago is compact and easy to get around on foot.Aqua Tower
The Aqua Tower, the tallest building created by a woman-led firm, stands out for its unique wavy water-like facade. These white concrete balconies, which are all unique in size and shape, transform the building into a work-of-art. Aqua, designed by Jeanne Gang of Studio Gang Architects, is an 82-story mixed use building with an enormous terrace on top, complete with gardens, gazebos, pools, hot tubs, and a running track.

Tribune Tower
One of the most beautiful buildings in Chicago, and a Chicago Landmark, is the Tribune Tower, a neo-Gothic skyscraper completed in 1925. The Chicago Tribune, Tribune Media, and Tribune Publishing have all called this building home and WGN Radio broadcasted from the building until 2018. If you walk along the building's outside walls you can see pieces of world famous constructions and landmarks (like the Taj Mahal, Great Wall of China, and the Great Pyramids) embedded in the exterior.
The Wrigley Building
Another iconic building worth a look-see is Chicago's Wrigley Building, located on the Magnificent Mile across from the Tribune Tower. This building, designed by architects Graham, Anderson, Probst & White for the Wrigley Company (the chewing gum giant), was Chicago's very first air-conditioned office building. Built in the 1920s, the two-tower complex, connected by an elevated pedestrian bridge, lights up the night sky with its white exterior.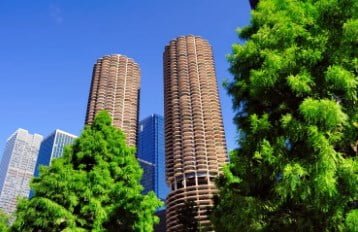 Marina City
This corn cob-like set of concrete buildings, where you can see parked cars in the multi-story garage, was designed by Bertrand Goldberg and finished in 1968. Situated right along the Chicago River, the interior of this building has rounded hallways and pie shaped rooms. The original design was to create an accessible city within a city, with plenty of amenities and features.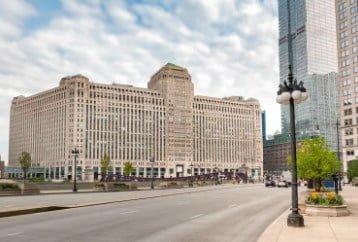 theMART
theMART, formerly known as The Merchandise Mart, is a major hub for art, culture, and design. This massive, 25-story Art Deco building, covering 4 million square feet and spanning two city blocks, serves as a home for architects, designers, contractors, and technology companies like Yelp, PayPal, Conagra, Allstate, and more. theMART is so colossal, it has its own zip code. The city hosts Art on the Mart, colorful multimedia image art display showcased on the building's facade.